Donald Trump regrets the "bizarre mistake" of

withdrawing the US

from the Paris climate agreement, Sir Richard Branson has said. The British billionaire also urged the president to help phase out the ailing US coal industry.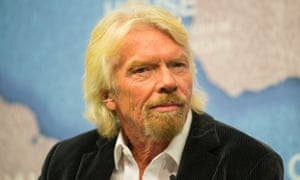 Branson said: 'There are some strange people
out there who have got into heady positions
in the American government.'
Speaking in Brooklyn on Friday, the Virgin Group founder said businesses and cities were firmly behind a transition to low-carbon energy, which made Trump's

decision to exit the Paris deal

"very, very strange".
"With climate change, it's America first and our beautiful globe last, and that seems incredibly sad," said Branson. "I've got a feeling that the president is regretting what he did. Maybe his children and son in law [adviser Jared Kushner] are saying, 'Look, I told you so.' Hopefully there is a positive change of mind."
On Sunday, French president Emmanuel Macron said he was hopeful that Trump would reverse his decision, according to the newspaper Dimanche.